PIM • TDD • Cross Border • Tropospheric Ducting •
PIM • TDD • Cross Border • Tropospheric Ducting •
PIM • TDD • Cross Border • Tropospheric Ducting •
PIM • TDD • Cross Border • Tropospheric Ducting •
PIM • TDD • Cross Border • Tropospheric Ducting •
PIM • TDD • Cross Border • Tropospheric Ducting •
RAN Generated • Broadcast TV • External • RF Jammers • CATV •
RAN Generated • Broadcast TV • External • RF Jammers • CATV •
RAN Generated • Broadcast TV • External • RF Jammers • CATV •
RAN Generated • Broadcast TV • External • RF Jammers • CATV •
RAN Generated • Broadcast TV • External • RF Jammers • CATV •
RAN Generated • Broadcast TV • External • RF Jammers • CATV •
Grey Market Devices • Bi-Directional Amplifiers • Legacy Equipment •
Grey Market Devices • Bi-Directional Amplifiers • Legacy Equipment •
Grey Market Devices • Bi-Directional Amplifiers • Legacy Equipment •
Grey Market Devices • Bi-Directional Amplifiers • Legacy Equipment •
Grey Market Devices • Bi-Directional Amplifiers • Legacy Equipment •
Grey Market Devices • Bi-Directional Amplifiers • Legacy Equipment •
RF CHALLENGES
Realize the Full Value of Your Spectrum
The value of spectrum licenses held by mobile operators across the globe is estimated to be well over one trillion USD. US operators invested over $80B in the first phase of the C-Band auction in 2021 to obtain critical spectrum for their 5G NR networks, and RF interference sources are severely degrading this vital resource. RF interference reduces network capacity, degrades the quality of experience for subscribers, elevates operational costs, and diminishes spectrum value.
RF Interference Categories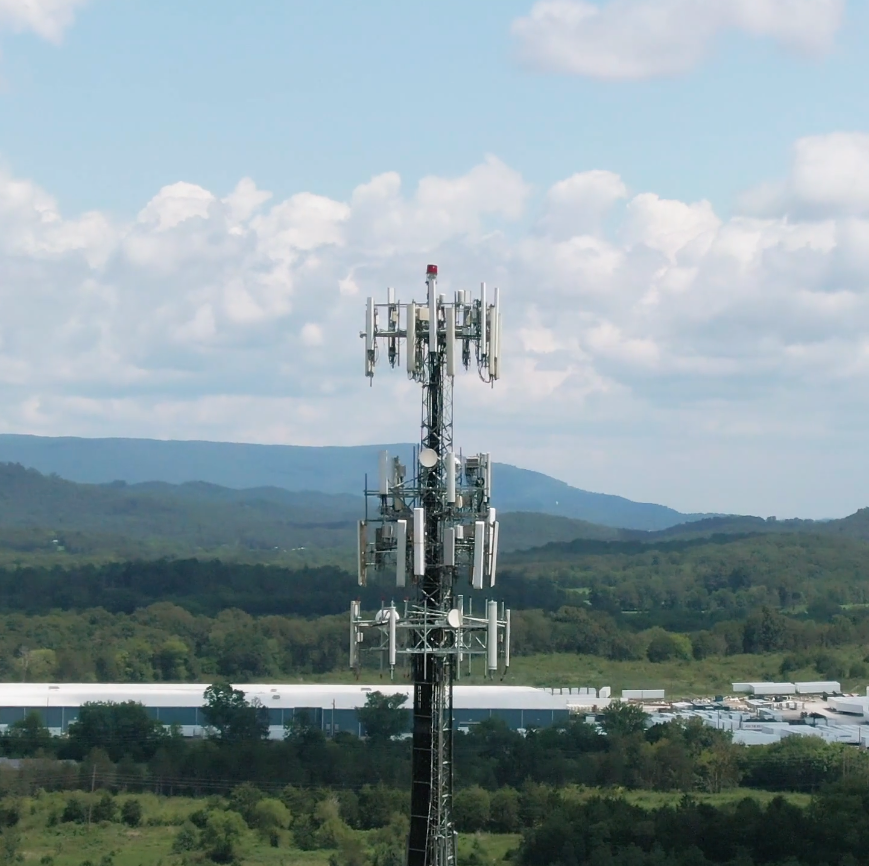 PIM Interference
Identifies PIM and if non-linearity is internal (cabling, connector, combiner, antenna) or external (nearfield to the antenna).
TDD Self-Interference
Occurs during periods of tropospheric ducting or when sites lose time synchronization.
RAN Generated Interference
Interference from UE traffic due to overlapping coverage.
External Interference
BDA, CATV egress, DECT, WiMAX, Broadcast TV OOB Emissions, Security Cameras, RFID Scanner, RF Jammer, etc.
Cross Border Interference
Incompatible or unaligned RF band allocations. May be exacerbated during tropospheric ducting.
Faulty Hardware
Faulty radio units, cabling and crossed feeders.
RF CHALLENGES
Massive Investment into Spectrum by Mobile Operators
Mobile operators realize substantial network performance improvements on cells when RF interference issues are resolved: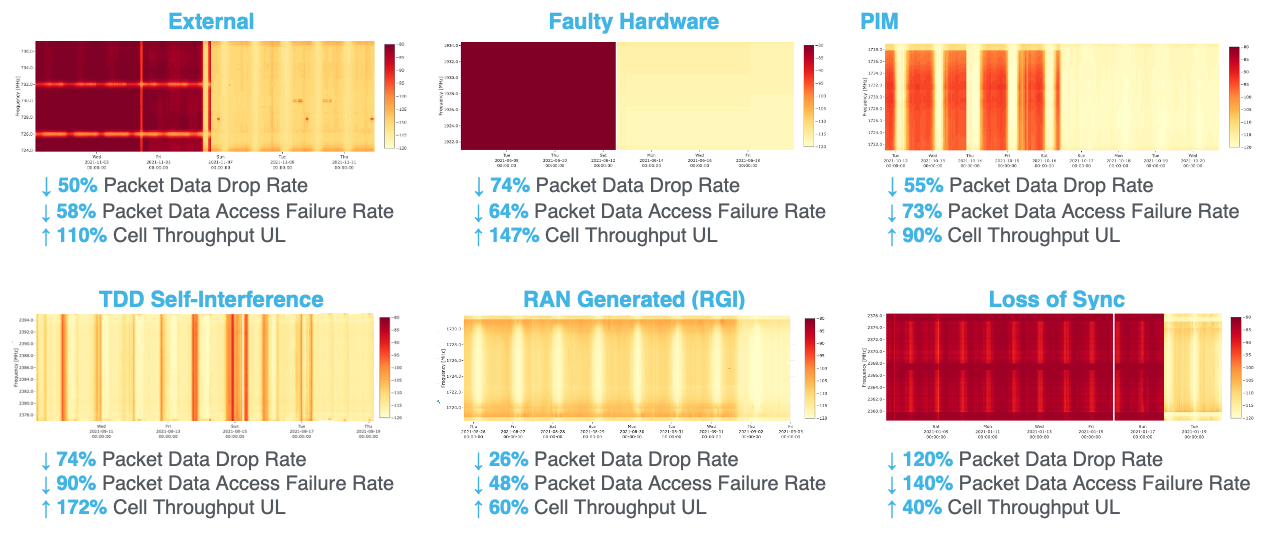 RF CHALLENGES
How is RF Interference Affecting Your Network?
The amount of RF interference varies by geographic region, country, and market. Below is a view of the percentage of cells with severe RF interference across more than 25 mobile operator network deployments across the globe.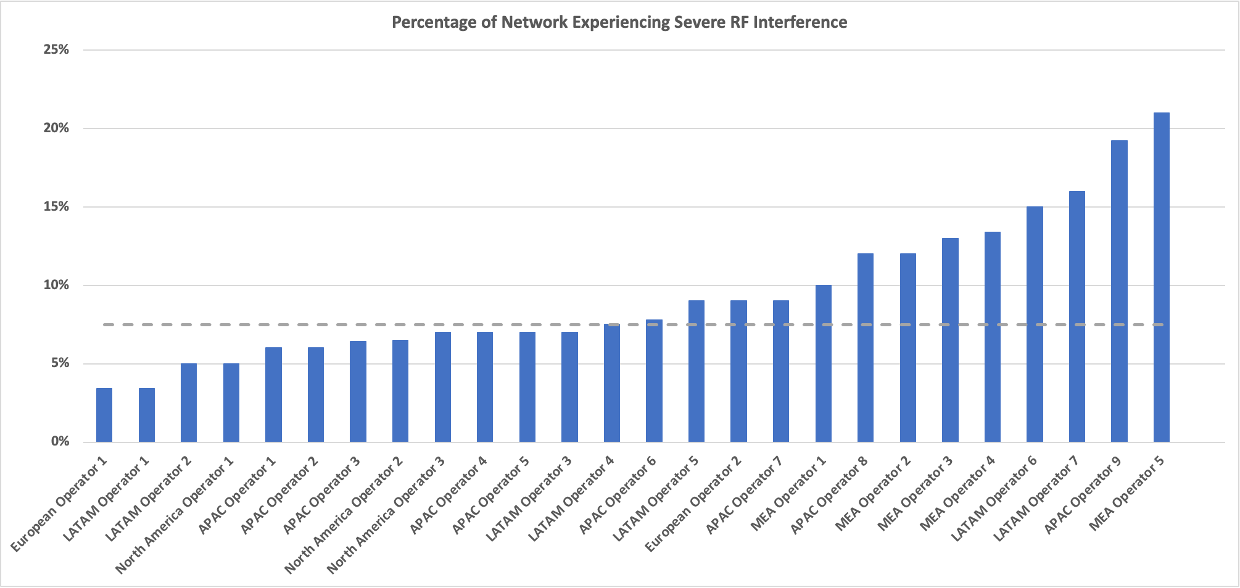 The amount of RF interference varies by RF band, with each RF band being vulnerable to RF interference challenges based on the specific circumstances of the operator.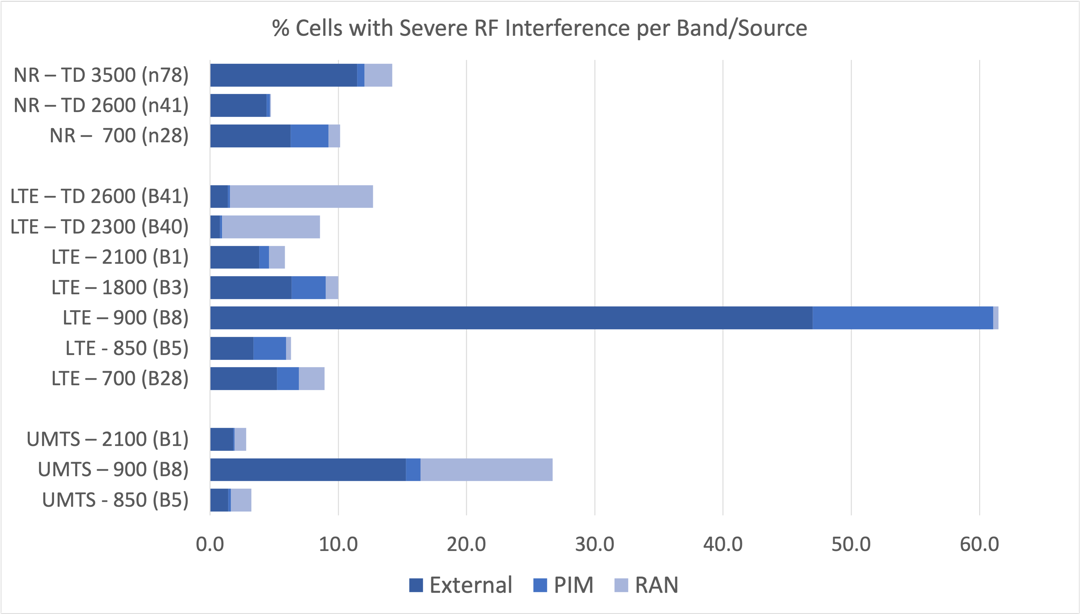 Mobile operators are facing increasing levels of RF interference as they deploy new bands and new NR TDD cells, and as networks become more heavily loaded, with more residents and businesses installing low-cost repeaters to improve indoor coverage.
RF CHALLENGES
Critical Business Need for Clear Spectrum
Operators lack visibility into harmful RF interference. Existing processes for addressing interference are cumbersome, manually intensive, and involve a lot of trial and error during the process of identifying and mitigating sources. Without advanced automated analysis, the resulting network capacity degradations and increased OPEX from RF inference negatively impacts the operator's business, costing billions of dollars per annum.
RF CHALLENGES
RF Interference Challenges Intensify with 5G NR
To meet expectations with this massive new investment into 5G NR networks, new RF interference challenges must be addressed quickly:
Spectrum Clearing:
Legacy devices transmitting inside the 5G NR band allocations will generate additional external interference.
Increased PIM Interference:
As new 5G NR bands are added, and the downlink utilization increases, the amount of external PIM interference events will increase on existing NR, LTE and UMTS channels. For most networks, the potential for PIM more than doubles with NR deployments.
TDD Self-Interference:
5G NR TDD channels suffer from severe self-interference in certain geographies during periods of tropospheric ducting.
Cross Border Interference:
Challenges arise with band allocations, synchronization and legacy equipment from neighboring countries, exacerbated during periods of tropospheric ducting.
Performance Impact:
Uplink interference substantially impacts the UL performance of 5G cells. Due to channel reciprocity applied for DL channel estimation of TDD cells, the DL performance of TDD cells will also be substantially impacted.
RF CHALLENGES
A New and Novel Approach to Address RF Interference
With Spectrum-NET, mobile operators are now able to address RF interference in new and more effective ways by applying state-of-the-art automated AI-driven RF interference analytics. Learn how the industry's leading mobile operators use Spectrum-NET to drive RF interference mitigation processes, enhance subscriber QoE, improve network KPIs, surgically deploy field assets, save OPEX and CAPEX, and maximize licensed spectrum and RAN infrastructure value.
Ready to see Spectrum-NET in action?
Learn how the world's leading mobile operators are using Spectrum-NET to drive RF interference mitigation, improve network performance, and maximize spectral efficiency.
Request Network Analysis